EMPLOYMENT
Schaaf Floral employees work as a team. As an industry leader we believe in the Schaaf Floral look, style and feel in everything we do. We have four employees with over 15 years experience, so as you can see it must be a great place to work.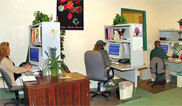 At Schaaf Floral, we tolerate nothing less than the best in every position. We do not categorize vertically but horizontally. We believe that a chain is only as strong as its weakest link. Schaaf Floral is a forward moving and thinking company. The days are not boring and the ideas and energy are always plentiful and exciting. The saying "The Customer is Always Right" is the greatest challenge in business. It really happens here. We are always looking for the best people for our company. If this sounds like You, tell us a little about yourself. We are looking forward to your interview.
Thinking about moving to Minneapolis? Contact us online or call (800)724-2237 and ask for Marcia to Discuss all possibilities. Schaaf Floral is proud to be a drug-free workplace.